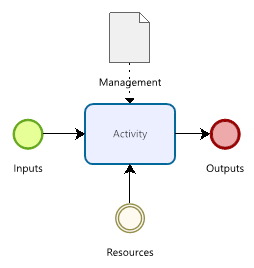 The MARIO matrix is a way of capturing the who, what, where, when, why and how of the different steps of a process, where MARIO is an acronym for Manage, Activity, Resources, Input and Output.
Note: In this context, Manage does not mean what the manager does, it means the criteria we apply to make sure that we are doing the right thing in the right way.
Tackling the MARIO matrix
There are no rules, but it may be easier to
Start by reading/compiling the top row of content: the description of who does what, with what, to achieve what...

Then elaborate each of these, column by column, for

Information on best practices (middle rows), and

Information how we can measure and document the effectiveness or efficiency (last row).
Activity

Resources

Inputs

Outputs

Describe what needs to be done, and how should it be done.

Describe who should be involved in the activity and what tools and systems should they be using.

It may help to assign the roles of the people involved according to RACI: who is Responsible, Accountable, Consulted, and Informed.

Describe what materials or information are required to perform the activity.

Describe what results from the activity.

Management criteria for getting the best results (effectiveness)

Specify how we achieve the objectives of this step in the process?

How we achieve the most appropriate results? What do we need to review?
How to we ensure it meets the specifications (verification)
How do we ensure it meets the needs (validation)
What, when and how should be communicated to the stakeholders in this step, or the other steps in the process?
What is the value we (can) add in this step

This could include information such as the type of task, how long it typically takes, issues that affect the complexity, stages (assuming these should not be further, individual steps) and the control of interfaces/handovers.

This can also cover how to react to bad or ineffective results (nonconformities), or what sorts of corrective - or even better preventive - actions to take.

Here we should note

What people are involved (roles)
In particular for processes that do not describe entire procedures, the description should include how we know that the people fulfilling the various roles are within their span of competence. That is, do they have the necessary skills, knowledge, aptitude, and training - and how has this been evaluated (with the acronym SKATE).
How do we evaluate or monitor the work of external suppliers? What are the best practices for working with those external suppliers, or re-evaluating the working relationship?
What infrastructure is necessary, and how do we know that the infrastructure and tools are fit for purpose.

Apart from the obvious inputs, it might also be worth considering

Is client property (real or virtual) involved?
If so, how is it to be handled? (Not unimportant, for example, if there is confidential, or GDPR-relevant information involved.
How should changes or feedback from reviews be handled?

What are the intended and expected results:

How do we know we have met the requirements for the next step in the process.
How do we ensure consistency and predictability of best practices?

Management criteria for applying effort and resources efficiently

What results do we expect for the effort of the personnel and the use of resources involved?

- same as 1st column -

- same as 1st column -

- same as 1st column -

Measurements and support (to quantify effectiveness and efficiency

To gauge the effectiveness: what should we be monitoring (status) or measuring (values)?
For efficiency: what performance indicators can we use?
When or how often should we be checking?
What else should we be documenting for traceability?

- same as 1st column -

- same as 1st column -

- same as 1st column -